In Pennsylvania, there are quite a few professional dentists who are experienced and committed to caring for patients with special needs. In general, special needs dentists receive 2-3 years of extra schooling which ensures they are perfectly equipped to care for patients. At Emergency Dentists USA it's our goal to make it easy for families an individuals find the perfect dentist near them. We've researched the best special needs resources for you to help you begin your search.
With guidance, recommendations, and resources, finding the perfect dentist can be easy. You'll be able to find a dentist you love and trust and someone who will make going to the dentist a breeze for your loved one with special needs.
"Everyone deserves the best dental experience possible. Teams that are trained to work with special needs patients have the training and extra dose of compassion. These resources are a great place to start."
Pennsylvania special needs resources
Pennsylvania has many great special needs resources that can help you find the right dentist.
As you begin your search, the Pennsylvania Dental Association will be a good place to start. They have a directory of dentists and dental clinics in Pennsylvania that you can search for by city and county.
Another helpful resource is PA Families Inc. They support families raising children with special needs and connect them to resources that can help them receive the information and care that they need. PA Autism is similar as they also support families with children with autism. They also have a list of dental resources for patients with special needs.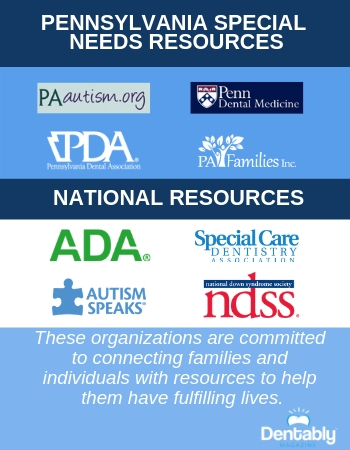 Other places to reach out to in Pennsylvania include collegiate dental schools. One school that has a program dedicated to helping patients with special needs is the University of Pennsylvania, School of Dental Medicine. Dental schools are filled with dental students looking for hands-on experience and often offer care for patients with special needs at a fraction of the price.
National Resources
When it comes to finding the perfect special needs dentist in Pennsylvania, try reaching out to national resources, too. The American Dental Association (ada.org) allows you to search for a dentist by location and specialty. They are a great resource for all things dentistry, especially special needs dentistry. Visit their website to help prepare for your loved one's appointment and research what to expect during their dental visits.
Another great national resource is the Special Care Dentistry Association. Their special care dentist referral service can refer to you a dentist in or near your city. You can even specify which insurance you have to make sure the dentist you find fits your needs.
Two national special needs resources that provide you with a good deal of support and information are Autism Speaks and The National Down Syndrome Society. These organizations are committed to connecting families and individuals with resources to help them have fulfilling lives.
What to ask your potential dentist
As you begin your search for the perfect special needs dentist, it's important that you ask them questions. This will ensure they are a good fit and will help you and your loved one feel confident at the appointment. Here are a few questions to get you started:
Are you comfortable working with a patient with special needs?

This is an important question to ask as some dentists may not feel comfortable or equipped to accommodate a patient with additional needs. Pediatric dentists receive 2-3 extra years of schooling and are a good start when finding a dentist. They are able to use their schooling to better provide dental care for a patient with special needs.

Do you have experience working with patients with additional needs?

When finding a dentist you will want someone who has previous experience. Be sure to listen for specific examples of a time when a potential dentist has worked with a patient with special needs. Overall they will be more comfortable in ensuring visit runs smoothly and that their patients are at ease throughout their checkup.

What special accommodations can be made?

Your child or loved one has unique needs and may need to have special accommodations made during their appointment. When speaking with dentists, be sure to ask if they are willing and able to make any special accommodations that your loved one may need. This can be anything from having a specific toothpaste flavor, reducing waiting room times, or making sure that the dental chair stays in the same position throughout the visit.
Preparing for the dental visit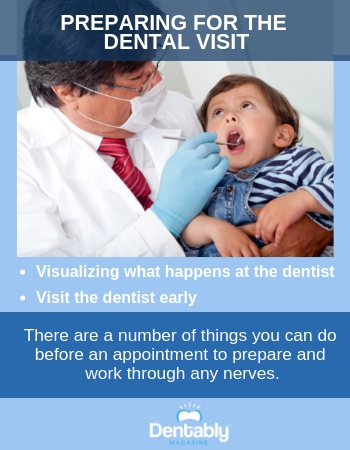 Once you have chosen a dentist, you will want to take some steps to prepare for the visit.
Preparing ahead of time is important because it can help decrease feelings of anxiety. There are a number of things you can do before an appointment to prepare and work through any nerves.
Visualizing what happens at the dentist

Visuals are a great way to see what happens at the dentist and make connections. This can be done with stories or videos and gives the patient a way to see what will be happening at their visit.

Visit the dentist early

Visiting the dentist before the scheduled appointment can be beneficial because it allows patients to familiarize themselves with the environment such as seeing the lights and equipment, and hearing the sounds. You and your loved one can meet the office and staff members and go over any accommodations that may need to be made.
Sedation Dentistry
Sometimes patients with special needs can benefit from being sedated with general anesthesia during a dental appointment. Those who are extremely apprehensive or uncooperative may need sedation during their appointments in order to receive the care they need. Sedation dentistry, or "sleep dentistry", helps to keep the patient calm and in a relaxed state. This type of sedation is not the same as being put under.
There are a few different types of sedation that may be available at your dentist. They include:
Inhaled minimal sedation: Breathing in nitrous oxide combined with oxygen to help relax. Your dentist is in complete control of sedation that is given.
Oral sedation: Can range from minimal to moderate. This type of sedation is most commonly associated with sedation dentistry. The pill makes will make the patient drowsy while a more moderate dose may make the patient fall asleep.
IV moderate sedation: A sedation drug is given through a vein and works more quickly. Your dentist will be able to continually adjust the sedation levels.
Deep sedation & general anesthesia: Medication is given that will make the patient nearly or totally unconscious. While under general anesthesia you cannot easily be awakened until the effects of the medication wear off or are reversed.
If the patient suffers from any other medical conditions be sure to consult with your dentist before choosing a sedation method. You don't want any medication from the sedation to interfere with the medical condition.
Special Needs Dentists By Region
Allegheny Mountains & Valleys | Great Lakes and Erie | Northeast Mountains – Poconos | Pennsylvania Dutch – Amish Country | Pennsylvania Wilds | Philadelphia – Lehigh Valley | Pittsburgh – Laurel Highlands | Susquehanna Valley
Finding a special needs dentist can be hard and it can be even more intimidating reaching out to them for the first time. That's why our team has gone through as many dental offices as we could to find practices that specifically mentioned working with patients with special needs. We've provided you with all the information you will need when scheduling an appointment and hope you find this list useful.
If you think there is a practice that should be included in our list, we encourage you to reach out to us!
Allegheny Mountains & Valleys
Dental Office: Betar Dental & Associates
Resource: https://www.betardental.com/meet-the-doctors
Address: 2217 7th Ave, Altoona, PA 16602
Phone Number: 1 (814) 942-9111
Hours: Mon – Thurs 8 am – 5 pm; Fri 8 am – 2 pm
Dental Office: Somerset Dental Associates
Resource: https://www.smilesda.com/dr-hajel.html
Address: 865 Eisenhower Blvd, Johnstown, PA 15904
Phone Number: 1 (814) 444-8815
Hours: Mon – Thurs 8 am – 5 pm; Fri 8 am – 2 pm
Dental Office: Pediatric Dental Care
Resource: http://pediatricdentalcare.org/
Address: 1019 Ghaner Rd, Port Matilda, PA 16870
Phone Number: 1 (814) 238-7120
Hours: Mon – Fri 8 am – 5 pm
Great Lakes and Erie
Dental Office: Dr. Rosanne M. Palermo M.A.G.D.
Resource: http://www.drrosannepalermo.com/services.html
Address: 3437 W Lake Rd, Erie, PA 16505
Phone Number: 1 (814) 833-3001
Hours: Mon – Thurs 9 am – 5 pm; Fri 9 am – 1 pm
Dental Office: Bell Dental Associates
Resource: https://www.belldentalassociates.com/dental-health/dental-specialties/
Address: 4820 Buffalo Rd, Erie, PA 16510
Phone Number: 1 (814) 899-0444
Hours: Mon, Thurs 8 am – 6 pm; Tues 8 pm – 12 am; Wed 12 am – 6 pm; Fri 7 am – 1 pm
Dental Office: Mong Family Dentistry
Resource: http://www.mongfamilydentistry.com/meet-the-staff/
Address: 408 S Main St, Greenville, PA 16125
Phone Number: 1 (724) 588-8910
Hours: Mon – Thurs 8 am – 5 pm; Fri 8 am – 1 pm
Dental Office: Charlton Dental Associates
Resource: https://sandylakedental.com/our-dental-team/
Address: 3242 S Main St, Sandy Lake, PA 16145
Phone Number: 1 (724) 376-7161
Hours: Mon, Wed 8:30 am – 5 pm; Tues, Thurs 7:30 am – 3 pm; Fri 8:30 am – 4 pm
Northeast Mountains – Poconos
Dental Office: D. Scott Aldinger DDS
Resource: http://www.aldingerdental.com/procedures/pediatric-dentistry/
Address: 8555 Interchange Rd, Lehighton, PA 18235
Phone Number: 1 (610) 681-6262
Hours: Mon, Thurs 8 am – 5:30 pm; Tues 8 am – 5 pm; Fri 8 am – 4:30 pm
Dental Office: Electric City Dentistry
Resource: https://www.charnitskidental.com/dental-health/dental-specialties/
Address: 300 Lackawanna Ave, Scranton, PA 18503
Phone Number: 1 (570) 343-4472
Hours: Mon 10 am – 7 pm; Tues, Thurs 9 am – 6 pm; Wed, Fri 9 am – 5 pm; Sat 9 am – 1 pm
Dental Office: Casey Dental
Resource: https://caseydental.com/facility/
Address: 1073 Oak St, Pittston, PA 18640
Phone Number: 1 (570) 654-4141
Hours: Mon, Tues 8 am – 7 pm; Wed, Fri 8 am – 4 pm; Thurs 8 am – 6 pm
Dental Office: Sprout Dental
Resource: http://www.sproutdental.com/sprout-gallery/around-sprouts-office
Address: 177 Sunrise Ave, Honesdale, PA 18431
Phone Number: 1 (570) 253-0358
Hours: Mon – Thurs 8 am – 5 pm
Pennsylvania Dutch – Amish Country
Dental Office: Shuman & Schwab: Shuman Michael S DMD
Resource: http://shumanschwabdentistry.com/who-we-are/2287570
Address: 109 Anna Ave, Blandon, PA 19510
Phone Number: 1 (610) 926-1233
Hours: Mon, Wed 8:30 am – 9 pm; Tue 7 am – 3 pm; Thurs, Fri 8:30 am – 5 pm; Sat 7:30 am – 12:30 pm
Dental Office: Berks Kids Dentistry
Resource: https://www.berkskidsdentistry.com/about-us.html
Address: 1001 James Dr A-10, Leesport, PA 19533
Phone Number: 1 (610) 916-7600
Hours: Mon, Wed, Thurs 8 am – 5 pm; Tues 7:30 am – 4 pm
Dental Office: Grove Dental Group
Resource: https://grove.dental/team/dr-kayla-klingensmith/
Address: 2228 State Hill Rd, Wyomissing, PA 19610
Phone Number: 1 (610) 379-3494
Hours: Mon – Thurs 7:30 am – 7:30 pm; Fri 8 am – 5 pm; Sat 8 am – 1 pm
Dental Office: Fox Dental Ltd
Resource: https://www.foxdentalltd.com/staff.html
Address: 819 Market St, Lemoyne, PA 17043
Phone Number: 1 (717) 761-0341
Hours: Mon – Thurs 8 am – 5 pm; Fri 7 am – 4 pm
Dental Office: Drs. Friedman, Grater, & Williams
Resource: http://www.friedmangrater.com/office-info/about-our-doctors
Address: 4129 Locust Ln, Harrisburg, PA 17109
Phone Number: 1 (717) 657-3326
Hours: Mon, Thurs 7:30 am – 5 pm; Tues, Wed 7:30 am – 8 pm; Fri 7:30 am – 4 pm
Dental Office: Crooked Oak Dental Associates
Resource: http://www.crookedoakdental.com/office-info/our-staff
Address: 600D Eden Rd, Lancaster, PA 17601
Phone Number: 1 (717) 569-7787
Hours: Mon, Tues 7:30 am – 5:30 pm; Wed 9 am – 6 pm; Thurs 7:30 am – 3 pm
Dental Office: Lancaster Pediatric Dental Associates, PC
Resource: http://www.lpdakids.com/why-see-a-pediatric-dentist
Address: 1875 Lititz Pike #9, Lancaster, PA 17601
Phone Number: 1 (717) 560-9002
Hours: Mon, Wed, Thurs 7:30 am – 5 pm; Tues 7:30 am – 6 pm; Fri 7:30 am – 1 pm
Dental Office: Zug Family Dentistry
Resource: https://www.zugdental.com/procedures/pediatric-dentistry/
Address: 24 Market Square, Manheim, PA 17545
Phone Number: 1 (717) 665-6040
Hours: Mon 7 am – 6 pm; Tues 7 am – 5 pm; Wed 7 am – 4:30 pm; Thurs 7 am – 9 pm; Fri 7 am – 4 pm
Dental Office: Beautiful Smiles Family Dental Center
Resource: http://www.welovebeautifulsmiles.com/blog/dr-graver-receives-anesthesia-certification/
Address: 564 Old York Rd, Etters, PA 17319
Phone Number: 1 (717) 938-1811
Hours: Mon 8 am – 5 pm; Tues 7 am – 5 pm; Wed, Thurs 8 am – 6 pm; Fri 8 am – 3 pm
Dental Office: F&S Orthodontics and Periodontics
Resource: https://www.fsorthoperio.com/about-us/
Address: 3125 Cape Horn Rd, Red Lion, PA 17356
Phone Number: 1 (717) 417-6263
Hours: Mon, Wed 7 am – 5:30 pm; Thurs 7:30 am – 5:30 pm; Sat 8 am – 12 pm
Dental Office: Spring Grove Dental
Resource: https://www.springgrovedentistry.com/dental-health/dental-specialties/
Address: 26 Roths Church Rd, Spring Grove, PA 17362
Phone Number: 1 (717) 225-5741
Hours: Mon, Wed 7:30 am – 5 pm; Tues 7:30 am – 6 pm; Thurs 7:30 am – 4 pm
Dental Office: Children's Dental Centre of York
Resource: http://childrensdentalcentre.com/individuals-special-needs/
Address: 1399 S Queen St a, York, PA 17403
Phone Number: 1 (717) 741-0848
Hours: Mon – Wed 7:45 am – 4:30 pm; Thurs 7:45 am – 3 pm
Pennsylvania Wilds
Dental Office: Applewood Professional Center
Resource: http://www.mooresmiles.com/procedures/pediatric-dentistry/
Address: 160 S 2nd Ave, Clarion, PA 16214
Phone Number: 1 (814) 226-6321
Hours: Tue 8 am – 4:30 pm; Wed 8 am – 3:30 pm
Dental Office: PA Oral Facial & Implant Surgery LLC
Resource: https://www.paoralfacialimplantsurgery.com/dr-firas-ali/
Address: 90 Beaver Dr, DuBois, PA 15801
Phone Number: 1 (814) 375-0500
Hours: Mon – Fri 8 am – 5 pm
Philadelphia – Lehigh Valley
Dental Office: Dr. Connie Pediatric Dentistry
Resource: http://www.drconniekillian.com/dr-connie-killian.html
Address: 3655 Route 202 Ste, Doylestown, PA 18902
Phone Number: 1 (215) 230-7600
Hours: Mon – Thurs 8:30 am – 5 pm
Dental Office: Happy Teeth
Resource: https://happyteethpa.com/about
Address: 165 Levittown Parkway Suite B, Levittown, PA 19055
Phone Number: 1 (267) 580-9657
Hours: Tues 9 am – 6 pm; Sat 9 am – 2 pm
Dental Office: George D. Segel, DMD
Resource: https://www.drgeorgesegel.com/dental-health/dental-specialties/
Address: 391 Eagle Rd, Newtown, PA 18940
Phone Number: 1 (215) 579-1600
Hours: Mon 11 am – 8 pm; Tues 10 am – 7 pm; Wed 8 am – 5 pm; Thurs 8 am – 4 pm
Dental Office: Upper Bucks Dental Arts
Resource: https://www.upperbucksdentalarts.com/about/main-office
Address: 2100 Quaker Pointe Dr Suite 3, Quakertown, PA 18951
Phone Number: 1 (215) 538-4423
Hours: Mon – Thurs 8 am – 6 pm; Fri 8 am – 5 pm
Dental Office: Children First Dental
Resource: https://www.childrenfirstdental.com/our-office.php
Address: 854 2nd St Pike, Richboro, PA 18954
Phone Number: 1 (215) 355-3141
Hours: Mon 8 am – 6 pm; Tues, Wed 8 am – 5 pm; Thurs 7 am – 2 pm
Dental Office: Sellersville Family Dental
Resource: https://drparkonline.com/
Address: 920 Lawn Ave, Sellersville, PA 18960
Phone Number: 1 (215) 258-1090
Hours: Mon 8:30 am – 5 pm; Tues, Thurs 9 am – 6 pm; Wed 7:30 am – 3 pm; Fri, Sat 8 am – 12 pm
Dental Office: Gentle Dental of West Chester
Resource: https://www.gentledentalwestchester.com/
Address: 125 Turner Ln, West Chester, PA 19380
Phone Number: 1 (484) 643-4417
Hours: Mon – Thurs 8 am – 5 pm; Fri 9 am – 1 pm
Dental Office: Endodontic Microsurgical Innovations
Resource: http://www.endomicrosurg.net/sitemap.html
Address: 5100 Township Line Rd, Drexel Hill, PA 19026
Phone Number: 1 (610) 789-1189
Hours: Mon – Thurs 9 am – 5 pm
Dental Office: Kidsteeth Pediatric Dentistry
Resource: http://www.kidsteeth.com/about-us.php
Address: 700 S Chester Rd, Swarthmore, PA 19081
Phone Number: 1 (610) 627-1199
Hours: Mon, Tues, Thurs 9 am – 5 pm; Wed 10 am – 6 pm
Dental Office: Brinton Pediatric Dentistry
Resource: https://www.brintonpediatricdentistry.com/patient-information/sedation/
Address: 1517 Pond Rd #201, Allentown, PA 18104
Phone Number: 1 (610) 395-4800
Hours: Mon – Thurs 8 am – 5 pm; Fri 8 am – 12 pm
Dental Office: Parkland Dental Center, PC
Resource: https://www.parklanddentalcenter.com/dental-health/dental-specialties/
Address: 4525 Spring Hill Dr, Schnecksville, PA 18078
Phone Number: 1 (610) 799-3200
Hours: Mon, Thurs 9 am – 5:30 pm; Tues 7 am – 5:30 pm; Wed 7 am – 4:30 pm; Fri 8 am – 4:30 pm; Sat 8 am – 12 pm
Dental Office: Audubon Family Dental
Resource: http://audubonfamilydental.com/pediatric-dentistry/
Address: 2795 Egypt Rd, Audubon, PA 19403
Phone Number: 1 (610) 631-5800
Hours: Mon – Fri 8 am – 6 pm; Sat 8 am – 2 pm
Dental Office: Children's Dentistry of Trappe
Resource: http://www.childrensdentistryoftrappe.com/mobile/about-the-doctors.php
Address: 515 West Main Street Collegeville, PA 19426
Phone Number: 1 (610) 409-1940
Hours: Mon – Thurs 8 am – 6 pm; Fri 8 am – 5 pm
Dental Office: Advanced Dentistry of Collegeville
Resource: https://collegevilledentistry.com/pediatric-dentistry/
Address: 399 Arcola Rd #100, Collegeville, PA 19426
Phone Number: 1 (610) 489-5555
Hours: Mon, Thurs 7:30 am – 5 pm; Tues, Wed 7:30 am – 7 pm
Dental Office: Albina Veys, DMD PC
Resource: https://www.albinaveysdmd.com/dental-health/dental-specialties/
Address: 104 S 2nd Ave, Collegeville, PA 19426
Phone Number: 1 (610) 489-6663
Hours: Mon 9 am – 6 pm; Tues 9 am – 6 pm; Wed 10 am – 7 pm; Thurs 9 am – 4 pm
Dental Office: Collegeville Pediatric Dentistry
Resource: http://collegevillepediatricdentistry.com/special-needs/
Address: 555 2nd Ave E-202, Collegeville, PA 19426
Phone Number: 1 (610) 409-2599
Hours: Mon – Thurs 8:30 am – 5 pm
Dental Office: Lakeview Dental Pc
Resource: http://www.mylakeviewsmile.com/our-staff-dental-services-in-horsham-pennsylvania.html
Address: 2 Village Rd, Horsham, PA 19044
Phone Number: 1 (215) 657-3600
Hours: Mon, Tues, Thurs 9 am – 8 pm; Wed 9 am – 3 pm; Fri 8 am – 3 pm
Dental Office: Skippack Dental
Resource: https://www.skippackdental.com/dental-health/dental-specialties/
Address: 2002 Old Forty Foot Rd, Skippack, PA 19474
Phone Number: 1 (610) 584-0445
Hours: Mon – Wed 8 am – 6 pm; Thurs 8 am – 12 pm
Dental Office: Ocean Dental Center
Resource: https://www.soceandental.com/dental-health/dental-specialties/
Address: 735 Fitzwatertown Rd Suite 3, Willow Grove, PA 19090
Phone Number: 1 (215) 672-8588
Hours: Mon, Tues 8 am – 5 pm; Wed 8 am – 6 pm; Thurs 7 am – 2 pm
Dental Office: Dr. Jeannine E Wyke DMD
Resource: https://www.drjwyke.com/
Address: 260 E Broad St, Bethlehem, PA 18018
Phone Number: 1 (610) 867-1511
Hours: Mon, Tues 9 am – 5:30 pm; Thurs 7:30 am – 4 pm
Dental Office: Red Lion Surgicenter
Resource: http://www.redlionsurgicenter.com/
Address: 240 Geiger Rd, Philadelphia, PA 19115
Phone Number: 1 (215) 676-2232
Hours: Mon – Fri 6:30 am – 5 pm
Dental Office: Dentists On the Square
Resource: https://dentistsonthesquare.com/special-needs-patients/
Address: 1845 Walnut St #950, Philadelphia, PA 19103
Phone Number: 1 (215) 567-0110
Hours: Mon, Wed, Thurs, Fri 9 am – 5 pm; Tues 9 am – 6 pm
Dental Office: Pennsylvania Oral & Maxillofacial Surgery LTD
Resource: https://www.paoms.com/procedures/oms-procedures/children-special-needs-dental-phobics/
Address: 207 N Broad St, Philadelphia, PA 19107
Phone Number: 1 (215) 557-0557
Hours: Mon – Thurs 8 am – 4 pm; Fri 7:30 am – 2 pm
Pittsburgh – Laurel Highlands
Dental Office: Morton S. Wintner, DMD, MSD
Resource: http://www.braces-pa.com/FAQS.html
Address: 850 Beaver Grade Rd #104, Coraopolis, PA 15108
Phone Number: 1 (412) 264-5755
Hours: Mon, Tues, Thurs 8 am – 5 pm; Wed, Fri 9 am – 5 pm
Dental Office: Dr. Aaron Valasek & Dr. Mark Pechersky
Resource: https://www.monroevillesmiles.com/pediatric-dentistry/
Address: 3845 Northern Pike #2, Monroeville, PA 15146
Phone Number: 1 (412) 823-2450
Hours: Mon 8 am – 4:30 pm; Tues 8:30 am – 6 pm; Wed, Thurs 9 am – 3:30 pm
Dental Office: Pediatric Dentistry of Pittsburgh
Resource: https://www.pediatricdentistryofpittsburgh.com/sedation.html
Address: 1600 Pacific Ave, Natrona Heights, PA 15065
Phone Number: 1 (724) 224-0790
Hours:
Dental Office: J Matthew Stacy Jr DDS
Resource: https://stacyortho.com/orthodontics-for-special-needs/
Address: 4607 Liberty Ave, Pittsburgh, PA 15224
Phone Number: 1 (412) 683-4800
Hours: Mon – Fri 7 am – 6 pm
Dental Office: Pittsburgh Dental Spa
Resource: https://www.pghdentalspa.com/services/sedation-dentistry/sedation-sedation-dentist-pittsburgh-pa
Address: 6502 Steubenville Pike, Pittsburgh, PA 15205
Phone Number: 1 (412) 200-2614
Hours: Mon 9 am – 6 pm; Tues 7 am – 3 pm; Wed, Fri 7:30 am – 12 pm; Thurs 10:30 am – 6 pm
Dental Office: Smith Dental Associates
Resource: https://www.2wexforddentists.com/dental-health/dental-specialties/
Address: 2560 Brandt School Rd, Wexford, PA 15090
Phone Number: 1 (724) 935-1033
Hours: Mon 12 pm – 8:30 pm; Tues 11 am – 7 pm; Wed, Thurs 7 am – 2 pm; Fri 7 am – 12 pm
Dental Office: Dentistry For Kids
Resource: http://www.dfkonline.com/meet-the-dentists
Address: 244 College Ave, Beaver, PA 15009
Phone Number: 1 (724) 888-2684
Hours: Mon, Wed 11 am – 5 pm
Dental Office: Stephanie Kobil, DMD LLC
Resource: https://www.kobildental.com/
Address: 257 Pittsburgh Rd, Butler, PA 16002
Phone Number: 1 (724) 282-1404
Hours: Mon – Thurs 9 am – 5 pm; Fri 9 am – 2 pm
Dental Office: Mars Dental Specialists LLC
Resource: https://www.marsdentalspecialists.com/
Address: 160 Brickyard Rd #500, Mars, PA 16046
Phone Number: 1 (724) 625-7200
Hours: Mon, Tues 8:30 am – 5:30 pm; Wed 7:30 am – 5:30 pm; Thurs 8 am – 4 pm
Dental Office: Allied Dental Group LLC
Resource: https://www.allied-dental.com/about-us/
Address: 234 S Main St, Slippery Rock, PA 16057
Phone Number: 1 (724) 794-2224
Hours: Mon – Fri 9 am – 5 pm
Dental Office: Geshay Pediatric Dentistry
Resource: https://www.geshaypediatricdentistry.com/patient-information/special-needs/
Address: 634 Pittsburgh Rd, Uniontown, PA 15401
Phone Number: 1 (724) 439-1576
Hours: Mon, Tues, Thurs 8 am – 5 pm; Wed, Fri 8 am – 2 pm
Dental Office: Mertens Dental Associates
Resource: http://www.mertensdental.com/procedures/pediatric-dentistry/
Address: 3805 Washington Rd, McMurray, PA 15317
Phone Number: 1 (724) 941-4990
Hours: Mon, Thurs 8 am – 5 pm; Tues 9 am – 8 pm; Wed 8 am – 4 pm; Fri 7:30 am – 1:30 pm
Susquehanna Valley
Dental Office: Dental Health Associates
Resource: http://www.svdha.com/procedures/pediatric-dentistry/
Address: 312 E Main St, Middleburg, PA 17842
Phone Number: 1 (570) 837-5117
Hours: Mon, Tues, Thurs 8 am – 6 pm; Wed, Fri 8 am – 4 pm